Entering the world with a burning desire for knowledge, Thomas Aquinas set out on a quest for truth that forced him into captivity. But his thirst for truth never wavered. 
Known today among many as the most brilliant light of the Church, Aquinas was a Catholic priest and a Doctor of the Church. His synthesis of Aristotle's philosophy with Christianity significantly influenced Western thought and solidified his legacy as one of the greatest philosophers of the Western world.
Over his lifetime, Aquinas wrote many Eucharistic hymns, some of which are to this day included in the Church's liturgy. His theological insight and natural reason make him an ideal model teacher for those pursuing Catholic priesthood.
Today, Saint Thomas is often depicted with a writing quill or an open book, proving that the search for knowledge and truth forever lives within his name.
"Margaret O'Reilly's Humble Servant of Truth is a miracle of concision, her clear-eyed sense of the past and dexterous prose coalesce to produce an unrivaled, endlessly thought-provoking novel. If you want an accessible introduction to St. Thomas Aquinas, look no further, because this tender word-portrait is Christian historical fiction at its finest."

DARREN J. N. MIDDLETON, TEXAS CHRISTIAN UNIVERSITY

"O'Reilly does an excellent job contextualizing Aquinas within the political, religious, and philosophical battles of his day, making this a pleasantly accessible work for those learning about the theologian for the first time."

KIRKUS REVIEWS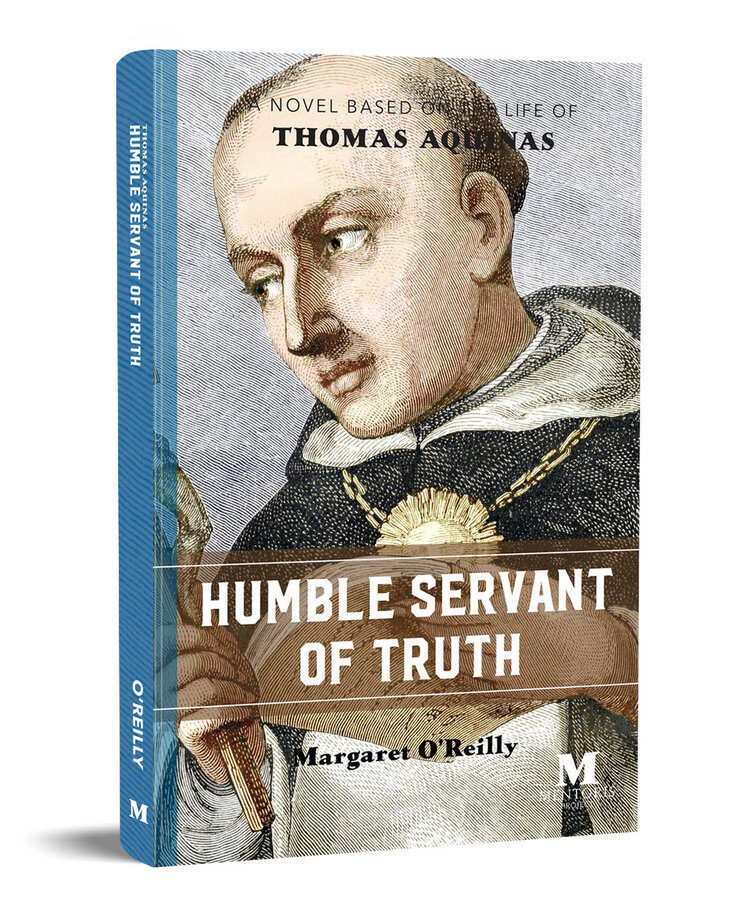 Available wherever books are sold, including:
"This concise but well-researched life of St. Thomas Aquinas, the great medieval theologian and saint, will surprise, delight, and inspire. The author not only captures the essentials of Thomas's upbringing, life, and career but also succeeds in bringing to the fore those aspects of Thomas's learning and sanctity that will speak to the minds and hearts of the modern readers for whom this book is intended."

DR. MARK J. CLARK, THE CATHOLIC UNIVERSITY OF AMERICA
Read the first two chapters here.
And don't miss our podcast with Dr. Rosanne Welch and author Margaret O'Reilly.
Listen Now or Subscribe Via Apple Podcasts | TuneIn | RSS